We were introduced to Retirement Solution Group (RSG) by a great collaborator, Danita Jo Talbot of Seedlings Marketing. She had been working with RSG to step up their digital marketing efforts and begin a push to grow the company. They had recently hired a new VP of Business Development as a part of that effort.
Then they hit a snag – along with the rest of the planet: Covid19. Turns out, this was a blessing in disguise for RSG's plans. Up to this point, RSG relied exclusively on in person networking to build new relationships and connect with prospects. In the age after Covid19, much has changed and meeting in large groups faded for at least a short time. When would we get back to in-person networking? Would it be as fruitful once we did? There were a lot of questions, but one thing was certain: If RSG was going to rely on digital marketing to a larger extent, the current website was not going be the right support for the effort.
For one, there had been a focused effort to build a knowledge library. Staff had been engaged and responded by writing content for the company blog so that RSG's experience and expertise could be seen there. The current site treated each post as little more than an independent article so when visitors to the site clicked on announcements about the new article, they were not given many ways to explore other articles and see the breadth and depth of knowledge the RSG team possesses. RSG was also using recurring online webinars to showcase the ways in which the team not only provided diligent management of retirement plans, but also made the process personal and impactful to each client. There was no mention of these events on the current website, so it was difficult to organize and centralize all of the ways RSG was communicating and promoting their amazing value.
Finally, RSG's biggest asset was not truly being showcased. Our analysis of the site traffic prior to redesign made it clear that visitors to the site wanted to know more about each of the people that made RSG special. We were determined to double down on this and connect it to the firm's overall specialties.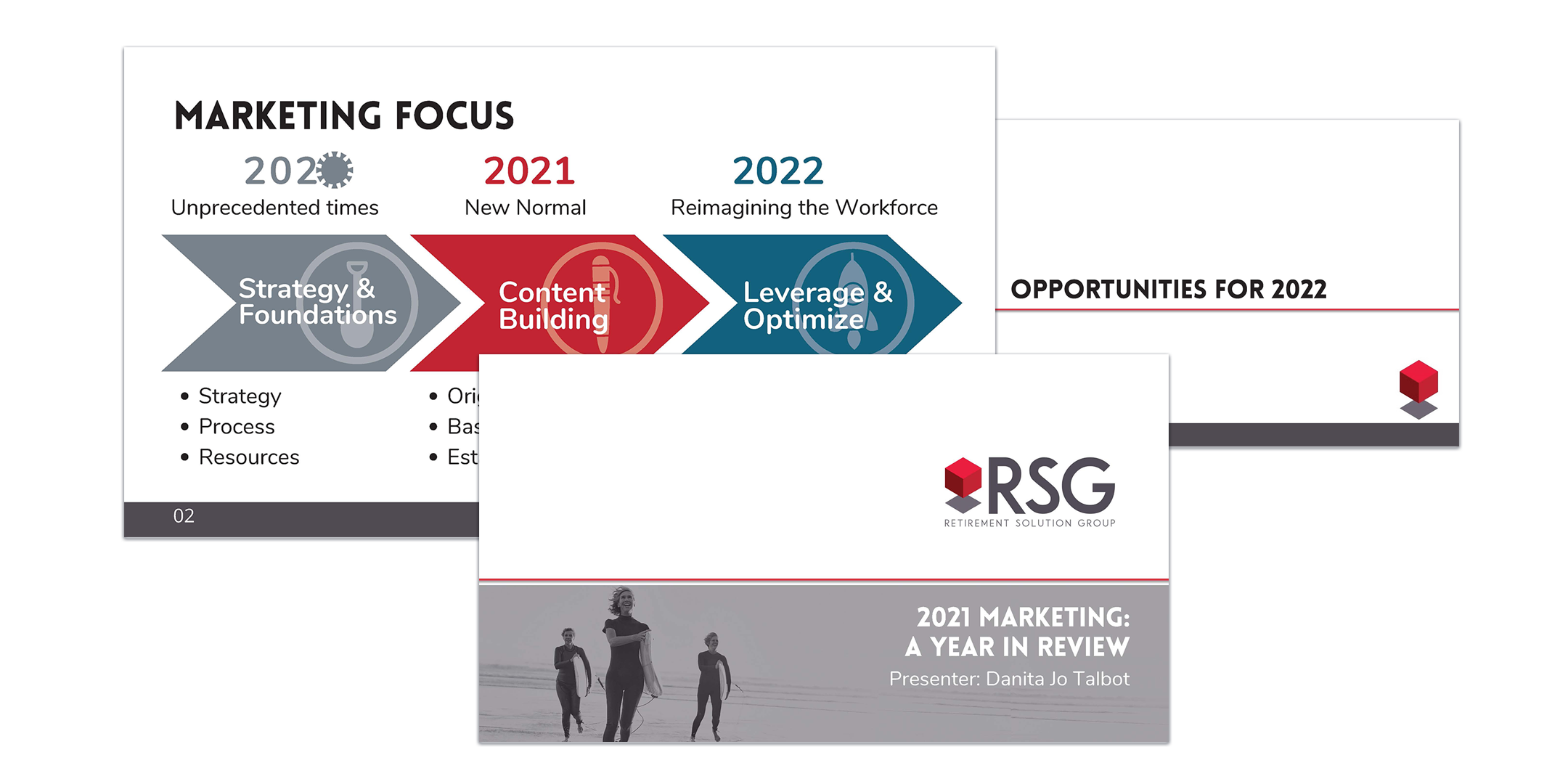 Working on the RSG project was helped a great deal by the work done by their marketing team. Since they had already built out marketing personas, we were able to identify a number of pain points for their prospective audience. This guided a lot of our work on generating headlines for the site's content. We also felt we could build a more intuitive navigation to the site as well as establish more Calls to Action throughout so that visitors to the site could easily make a connection to a live person quickly and easily.
We were also able to review traffic patterns on the site and what we saw was that visitors were not usually digging deep into content. We established goals related to page depth for the average visitor so we could begin to measure the results once the new design was in place. We wanted visitors to really connect with RSG in a manner closer to that of an in-person introduction. This meant our plan focused on three main aspects:
Personal connection to the team
Relevant content for both new and returning visitors
Encouraging exploration with easy navigation to related content
To do this, we wanted to make sure that not only was the RSG knowledge base clearly easy to find, but also consolidated the blog articles, recorded webinars, and upcoming events. This meant building a knowledge library page that included both blog articles and past videos. We would also include a Client Resources page that helped existing clients find any of the things they needed from a link to login into the client portal to upcoming webinars and searchable listing of past articles and events.
We also recognized from the past traffic data, that many visitors would start their experience with the team bios. This seemed to us to be an opportunity to both highlight personal expertise while also nudging a visitor to go deeper. Two Row used the hooks within WordPress for blog authors to connect a person to the materials they wrote. We customized the Author pages and profile screens to include several additional pieces of information so that each bio page would also include a list of that team member's latest articles. We also made sure to design the article pages so that posts were linked back to the author as well as to other articles with related content.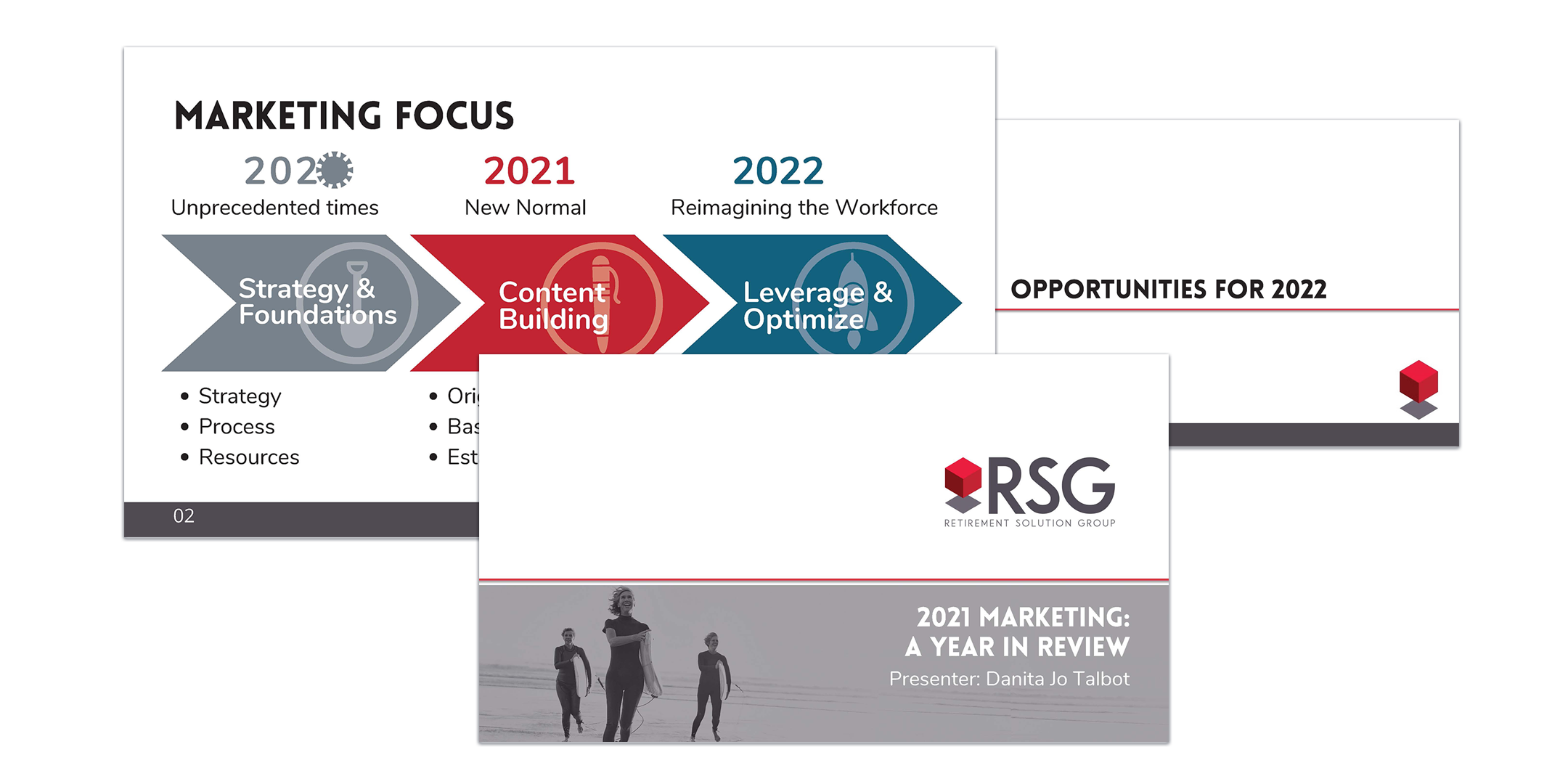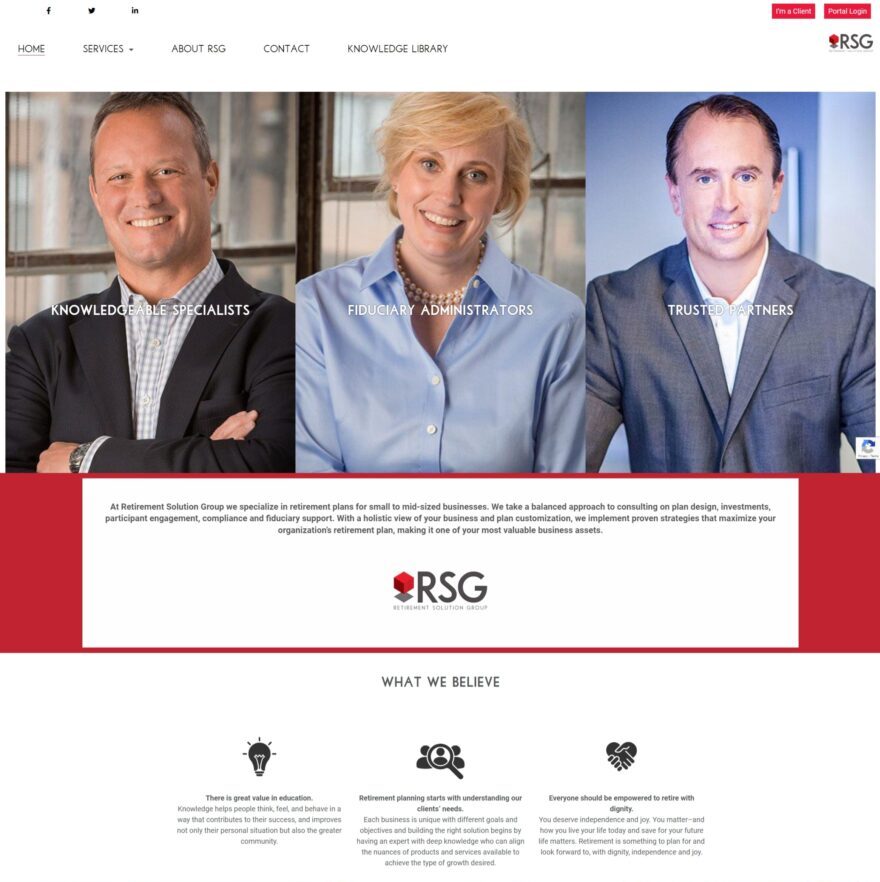 For the RSG Homepage, we wanted to jump out with two very important parts of our message:
RSG is about its people and the personal touch they bring to your retirement plan
RSG has unmatched expertise because they are focused on retirement planning
The banner highlights the people with some of the major differentiation messages that are echoed throughout the site content. The presentation is dynamic to catch attention and easily allow a visitor who feels connection to that particular message to go deeper with a link to a page dedicated to the topic. Immediately following the banner is a clear statement of values. The goals is to make it clear from the very moment someone arrives at the site, they know what RSG represents.
Throughout the rest of the page, we reflect the deeper content and provide links which supplement the top navigation and finally add a set of personal statements from the team highlighting the real impacts RSG has made for its clients.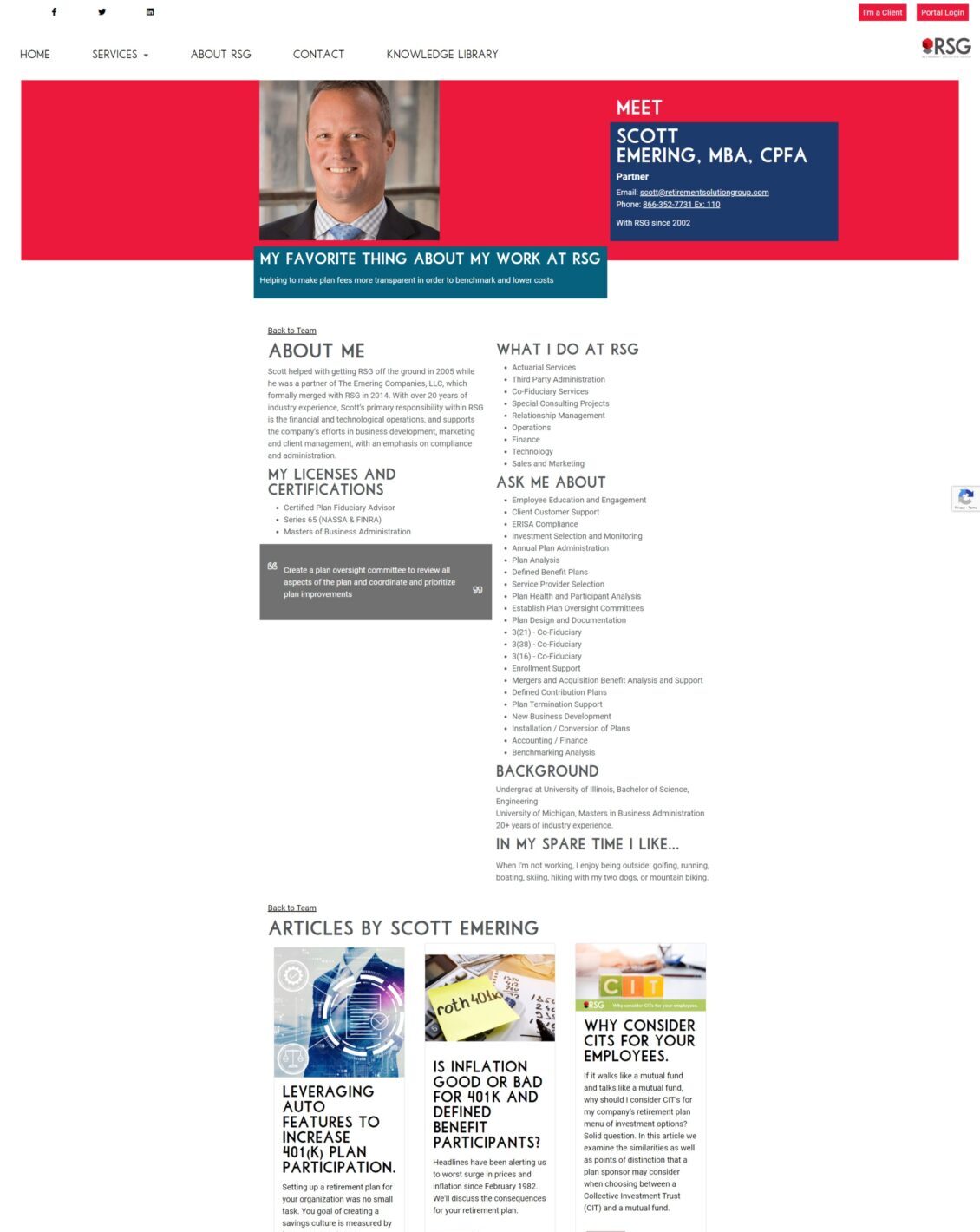 The about page features a grid of the team members with a twist that helps make it a bit more personal. Hovering over the team member reveals a personal image from outside the office. It is reveals a link to the team member's bio page which highlights their certifications, areas of responsibility at RSG, and some of their favorite experiences helping clients through difficult situations.
The pages also link to articles they've written so interested visitors can start to hear from them in their own words about topics that might affect them or their retirement planning.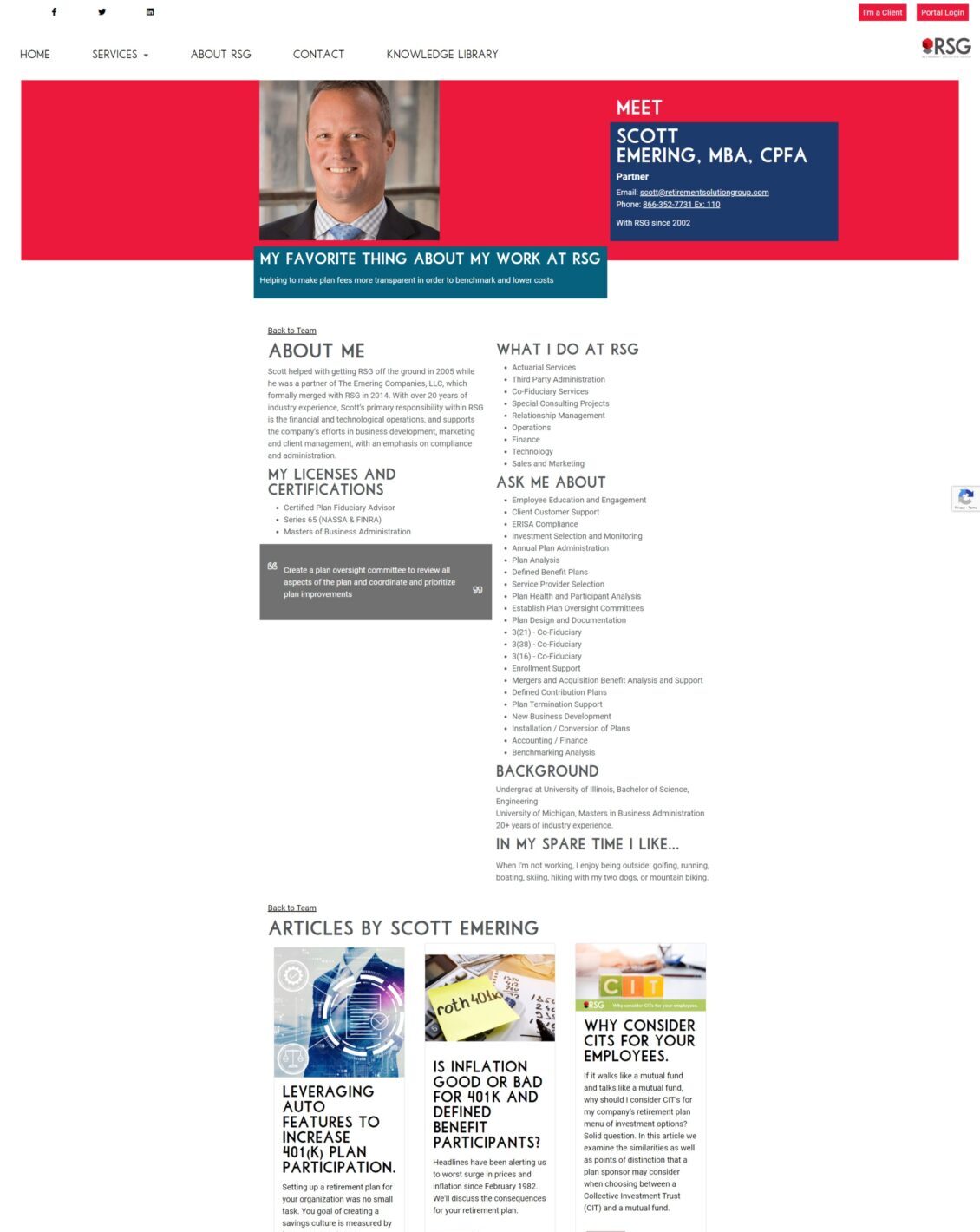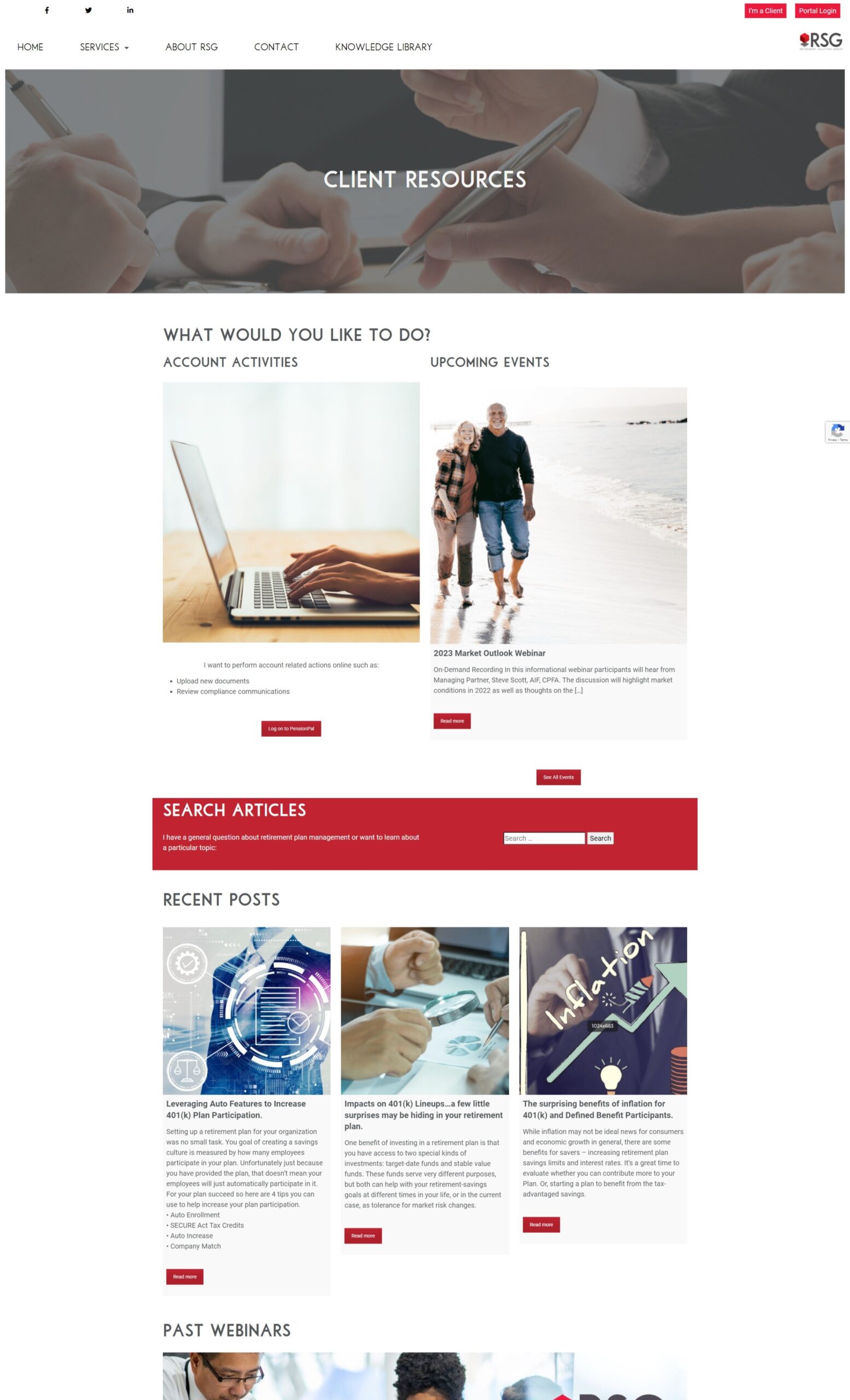 With the previous website, RSG had parts of their digital marketing in several different and disconnected places. They listed webinars on one platform, their videos on another, and of course articles were published in the blog. While the marketing team tried to make sure that the website would have a new article or page added when a new video was posted, it all had to be done by hand. This was enough of a deterrent that the webinars never even had a place on the site and RSG relied solely on emails to encourage registrations.
We added an event plugin that allowed RSG to both publish about upcoming webinars, but also link past sessions to recordings. We also integrated the RSG YouTube channel directly into the site so that there would be no more manual adding of new videos that had already been posted on YouTube onto the site.
The RSG website is getting great results so far. We've seen engagement on the site more than double with more people clicking deeper into the site and taking in more of the great content they've been developing for so long. They are excited about it and so are we! We look forward to continuing to look at our performance measurements and see how the site will continue to evolve.
At Retirement Solution Group, we pride ourselves on our dedication to providing proactive retirement plan management and support. Our business relies heavily on referrals and direct networking to find clients. The Covid19 pandemic affected us similarly to other businesses and forced us to do more of our marketing through less personal channels. Two Row's thoughtful process helped us redesign our website so that it could reflect RSG's greatest asset – our team's dedication and expertise – and bring a personal touch into our digital presence. Now the site meshes with our in-person efforts and helps us better connect with people; no matter how we first meet.
Kevin Delaney, VP Business Development - Retirement Solution Group
Visit RSG