We helped Brighton Main streets move their website from a proprietary website platform and in the process centralize a number of their online resources into one place. What they got was a great new way to do outreach and promote all the businesses and organizations in Brighton, MA they are dedicated to support for a better community.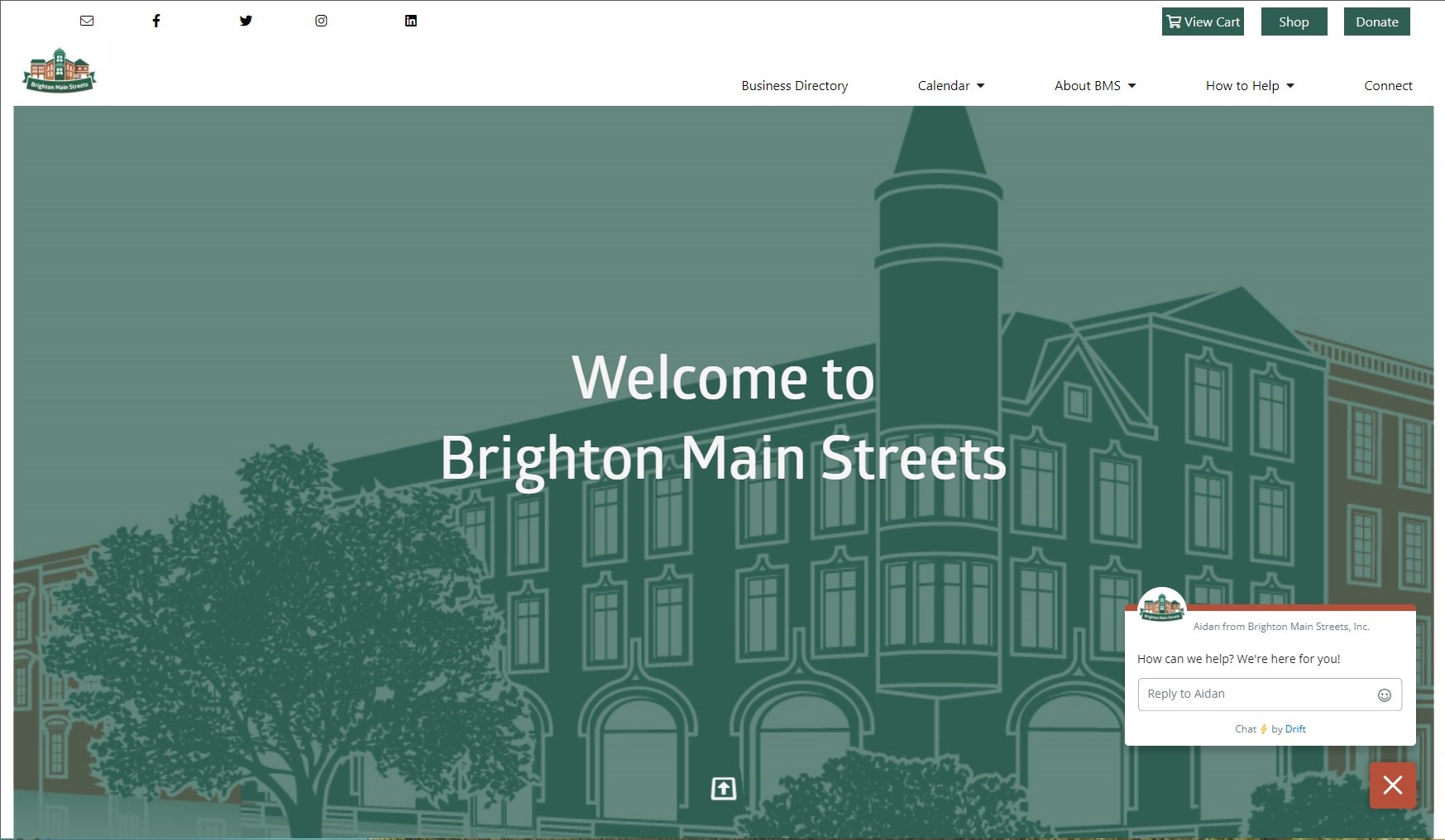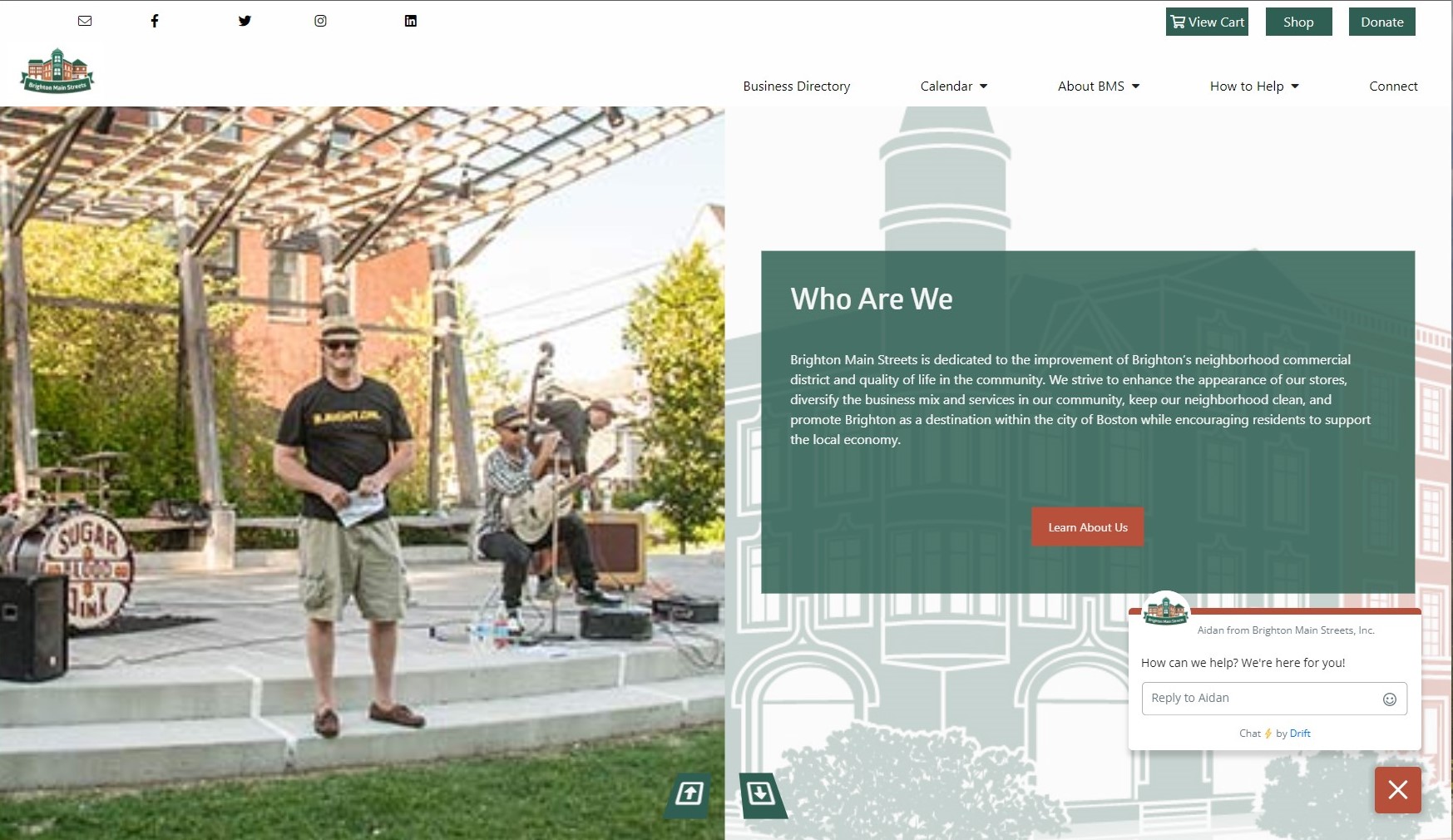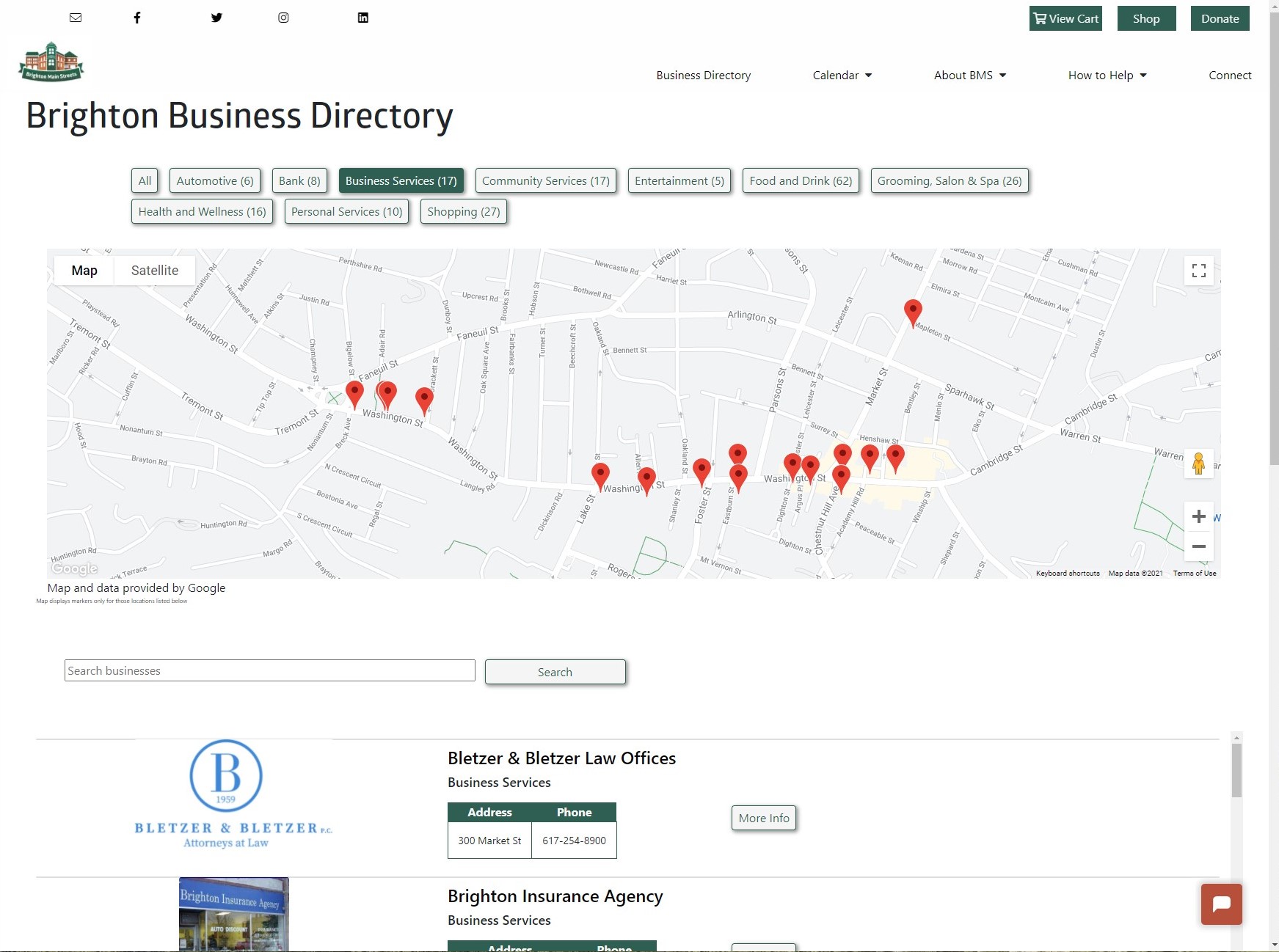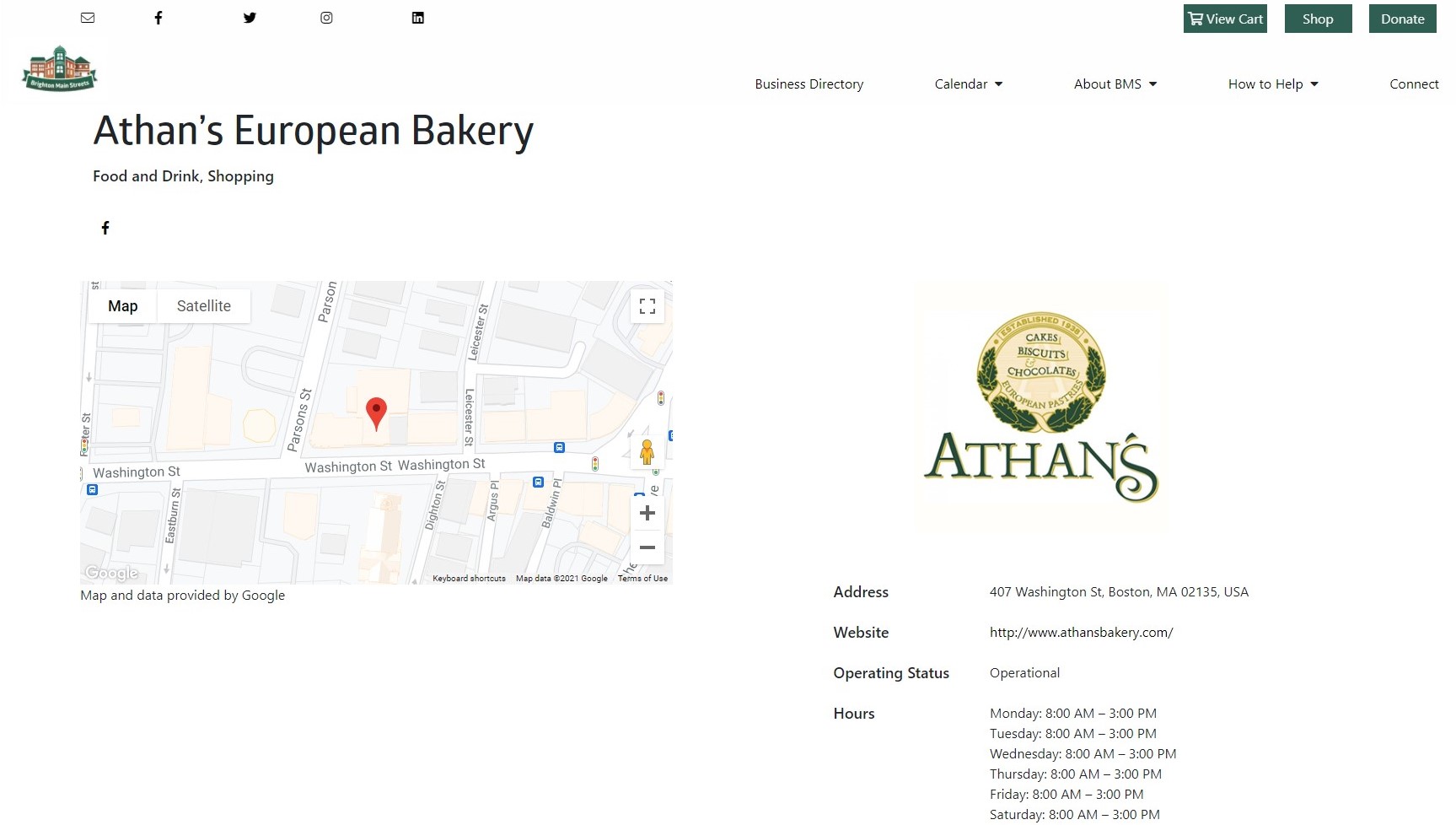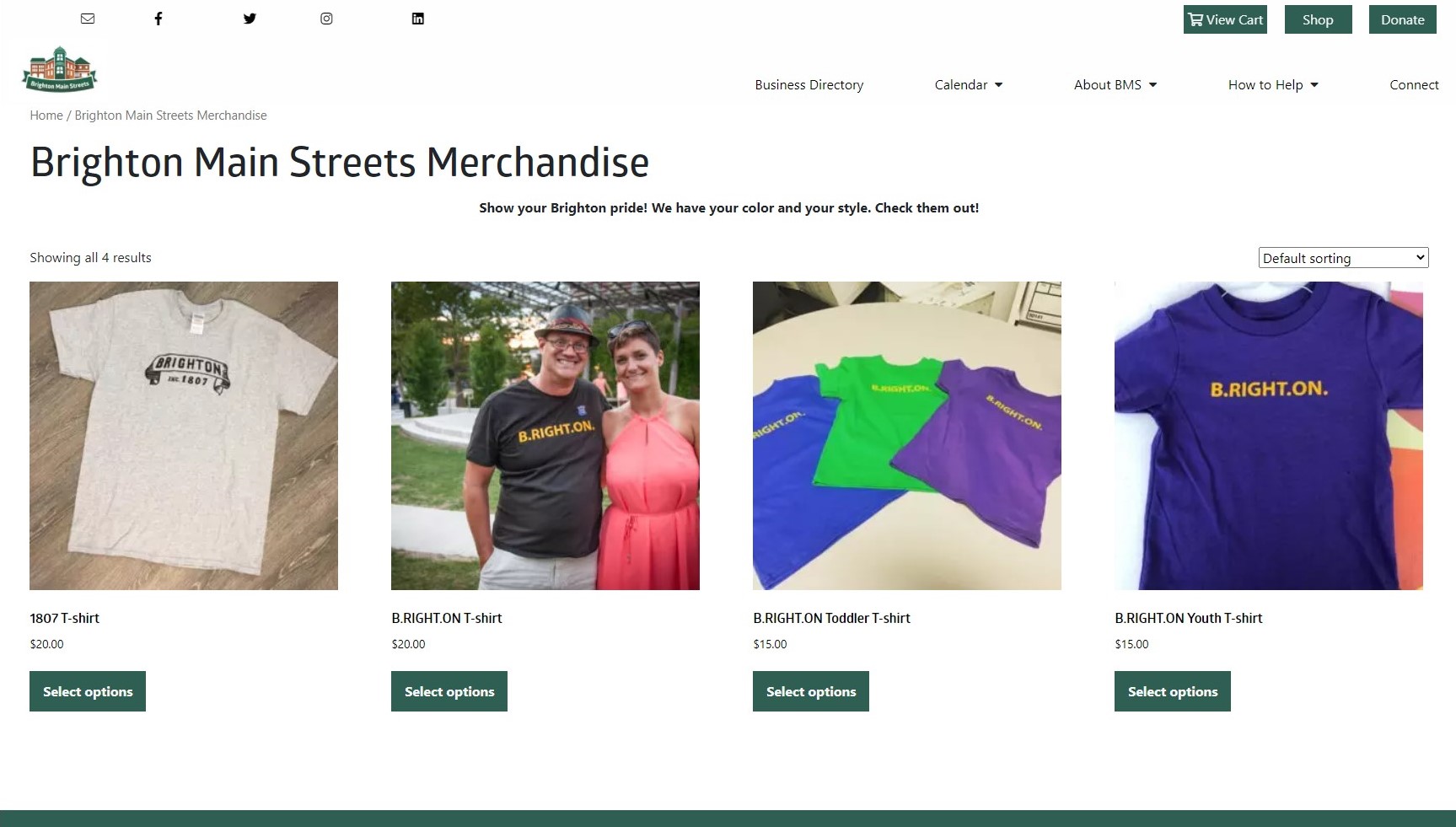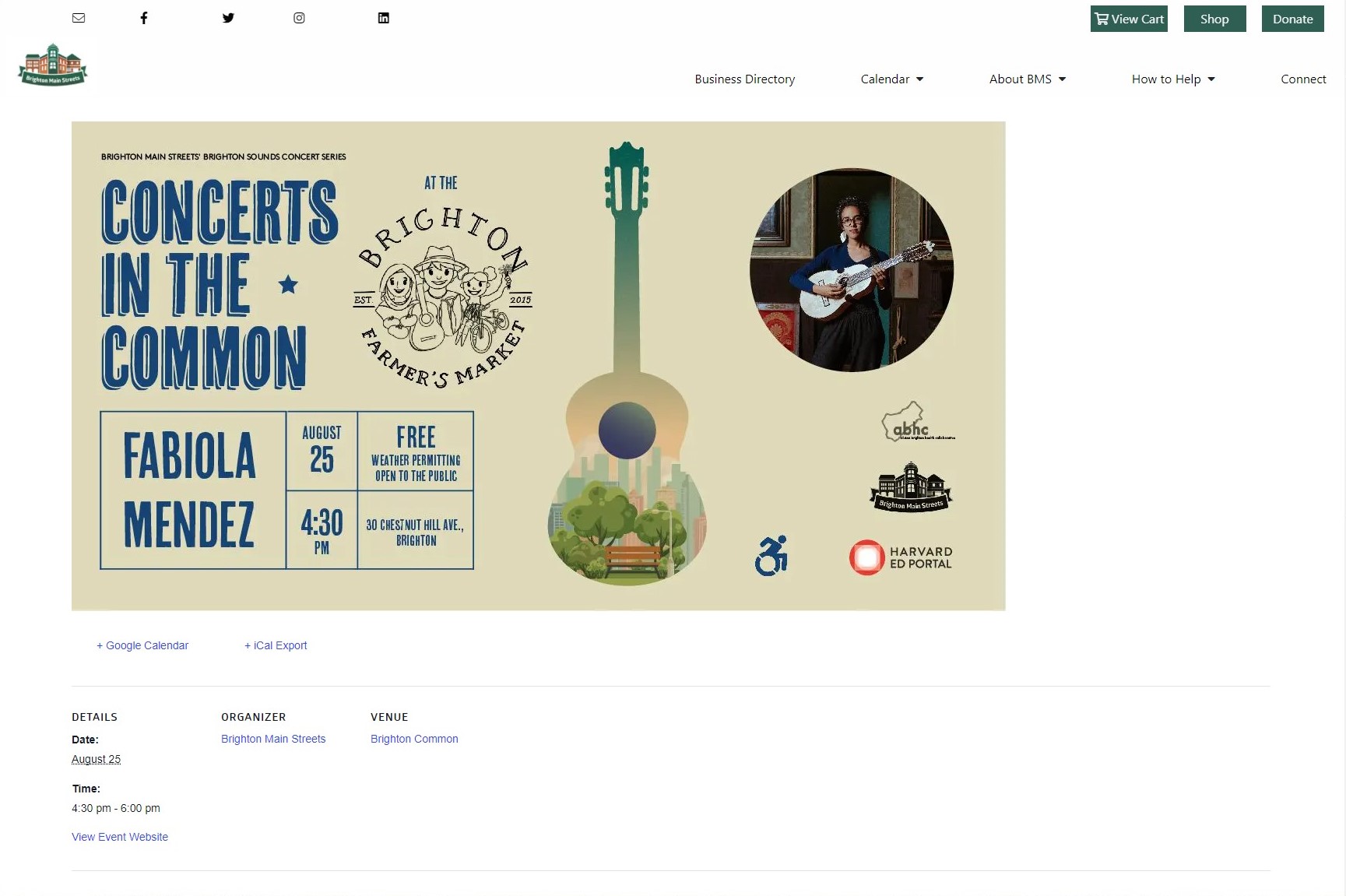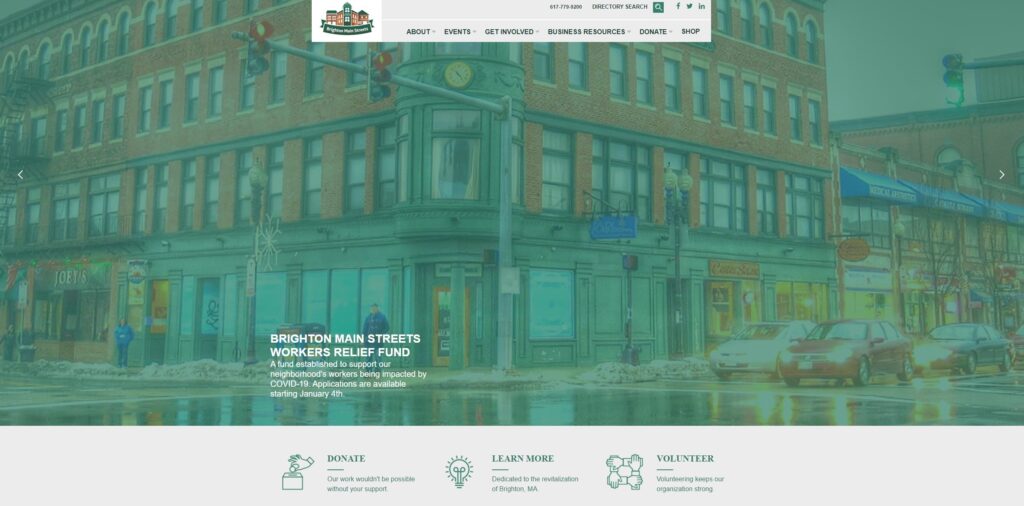 Brighton Main Streets (BMS) had a website. It was functional. They knew how to update the text and create blog posts, but there was one very obvious problem. The company that hosted their website was shutting down. Not usually the end of the world, but in this case, the host used a proprietary content management system (CMS) to build the sites. That meant the site was going to have to be redone from scratch.
So was it a problem or an opportunity? That's what we set out to find out. We brought the crew together from BMS and did a discovery session to identify the all the stakeholders, what they needed from the website and organize the new site to match. During the discovery phase, we noted that their website was more than just a single site. They had a donation platform on a 3rd party site. They also had an online store on yet another site. Lots of things to manage and lots of different places to do it.
One of the most important parts of the BMS site was its business directory. It was pretty good in giving users the information about what each business was, but really it was just a list. A list that needed to be updated with new information by hand.
We took a little bit of inspiration from Brighton's status as a neighborhood in the City of Boston (and also as the location of the Boston Bruins practice facility) and determined to make the website into a true "hub of the (BMS) universe." We took all the parts of the current BMS web presence and brought them together. We'd use some great 3rd party plugins as well as the Two Row Studio MapIt! plugin to bring it all into a single website.
While we were at it, we wanted to better serve their mission by making communication easier and quicker with website visitors. This involved adding a chatbot to the site and also integrating it into their existing customer relationship manager (CRM) to better manage follow-up with contacts that came through the site be they local businesses, volunteers, partners, neighborhood residents, or visitors.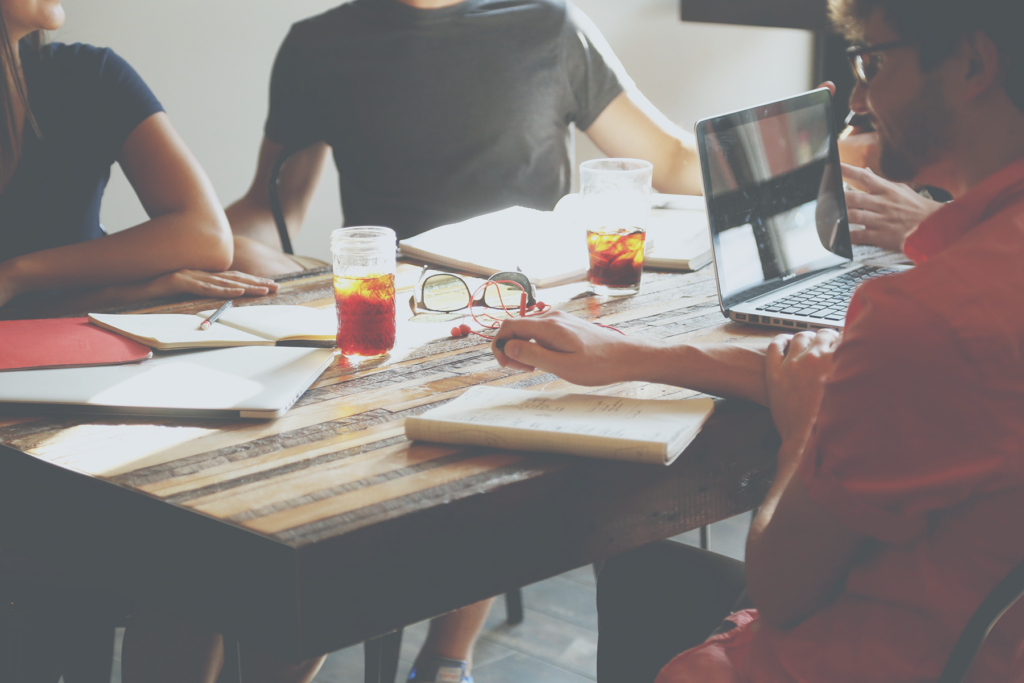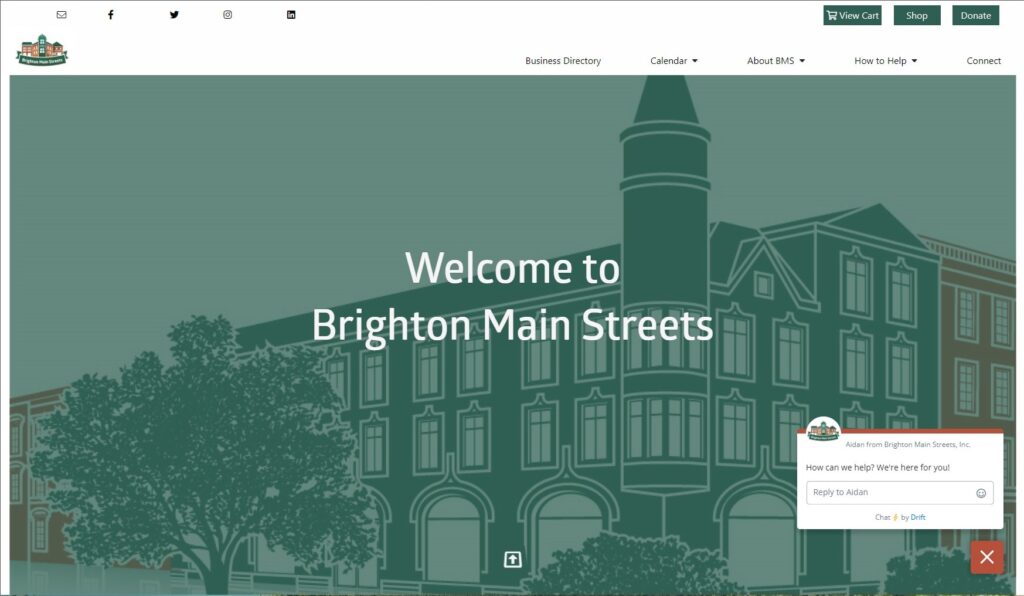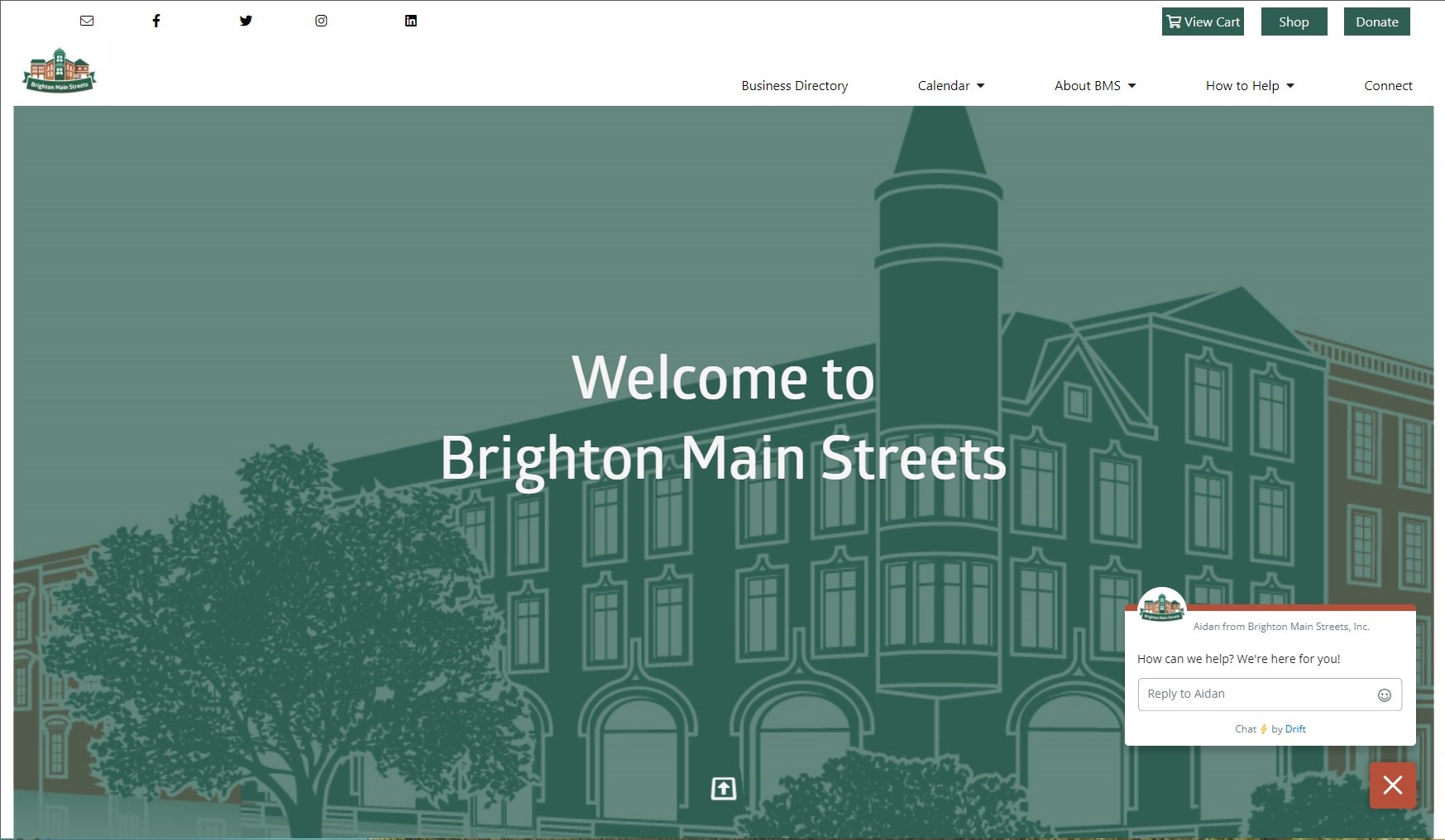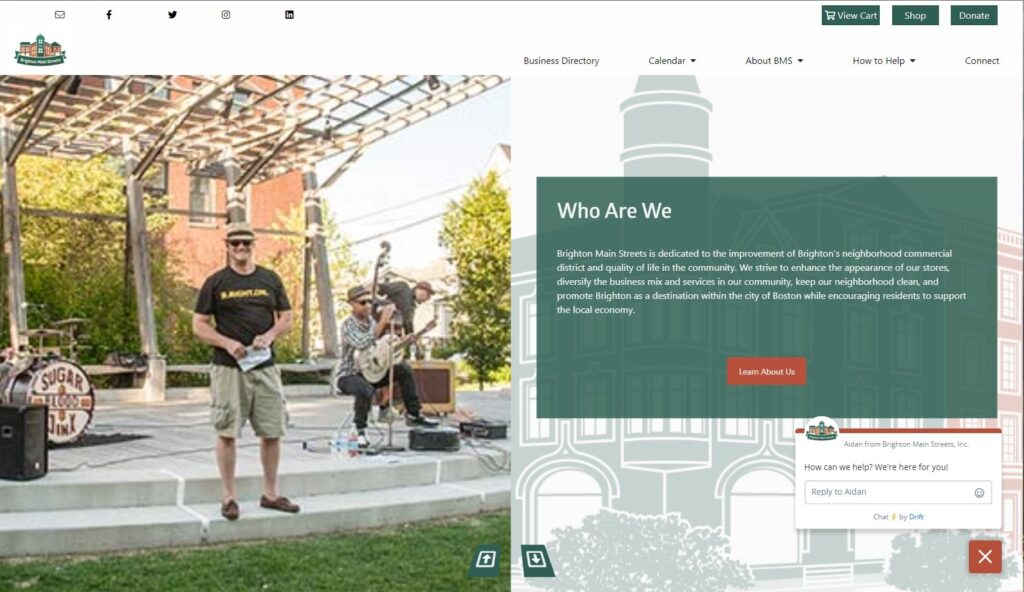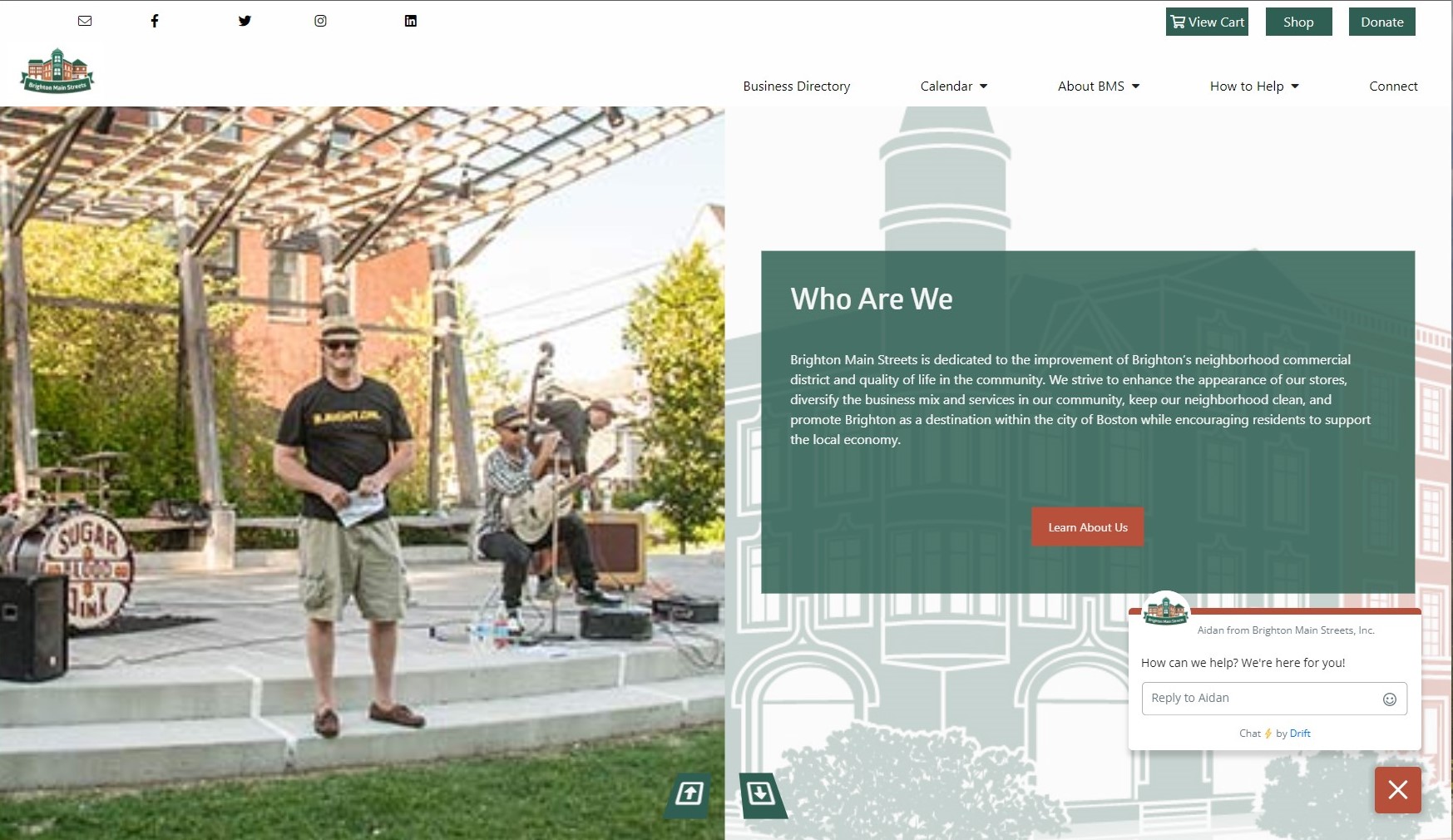 New Home Page
We wanted to give BMS a more eye-catching home page. At its heart, BMS is a neighborhood organization. This was another aspect we wanted to highlight. We turned the homepage into a streetscape and let visitors "stroll down the street" to each of the sections of information and links to deeper content. We also made sure there was an appropriate experience on mobile phones where screens weren't sized to mimic this experience well.
The home page now was ready to act as a good starting point for the average visitor that allowed them to focus on the thing they were most interested in exploring. We made sure sections had easy to use links to the calendar of events, the business directory, and opportunities to support the mission.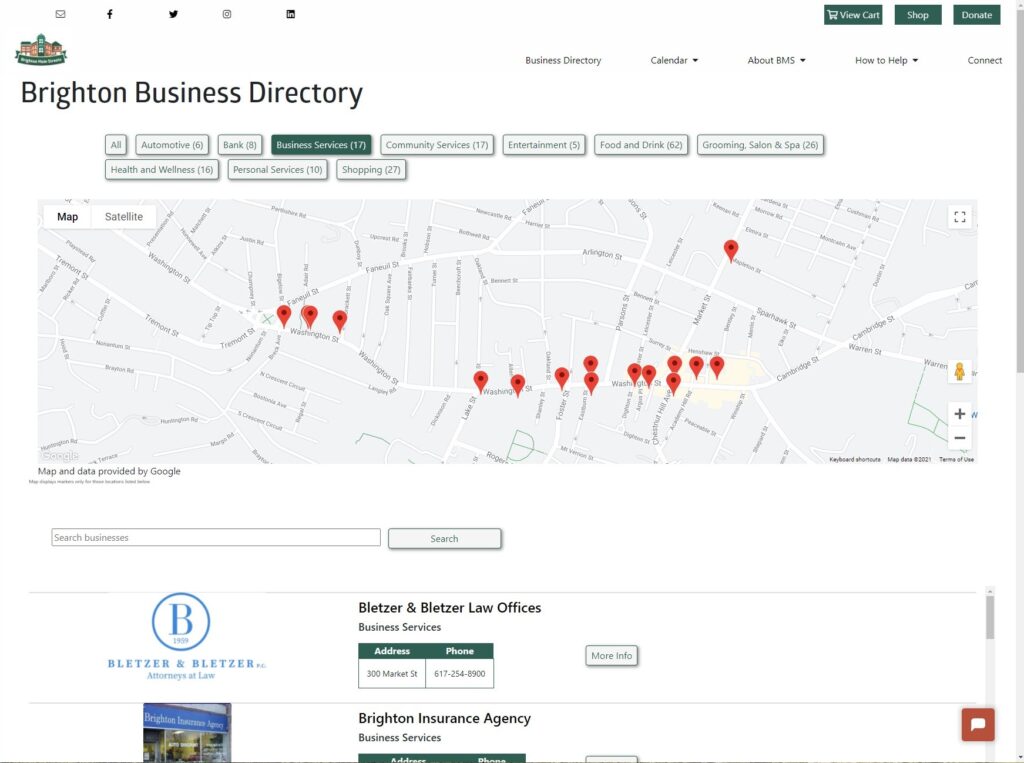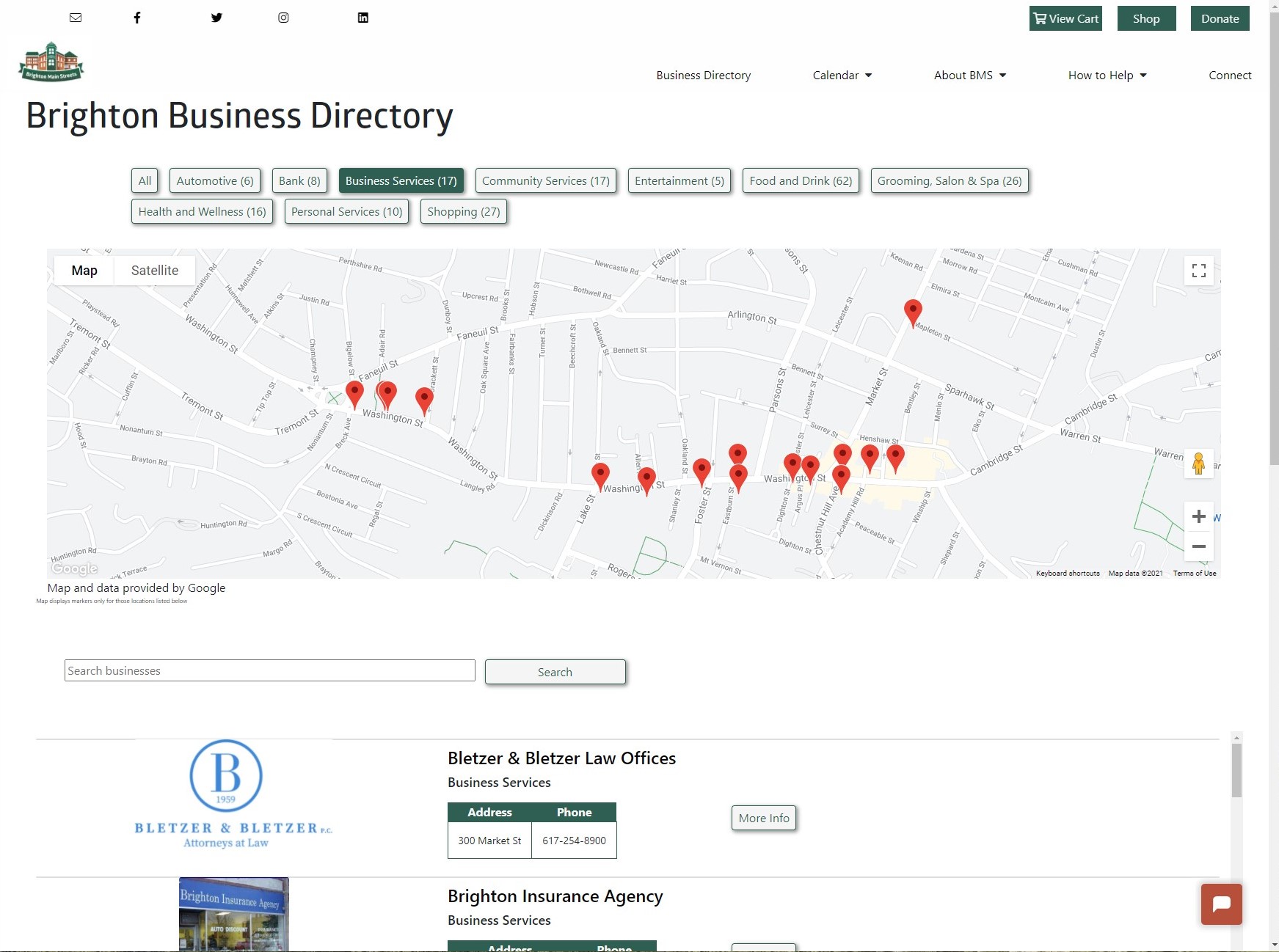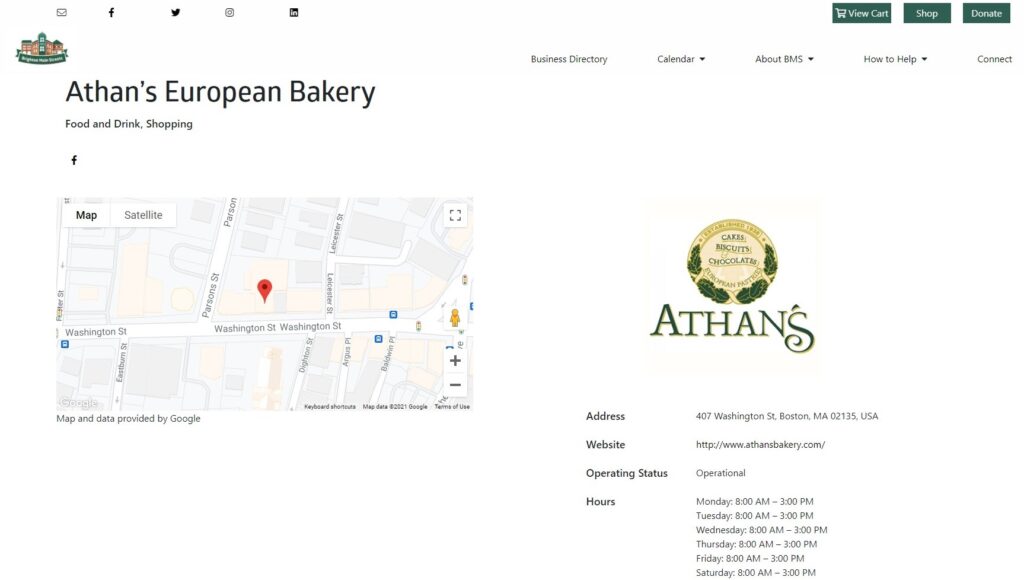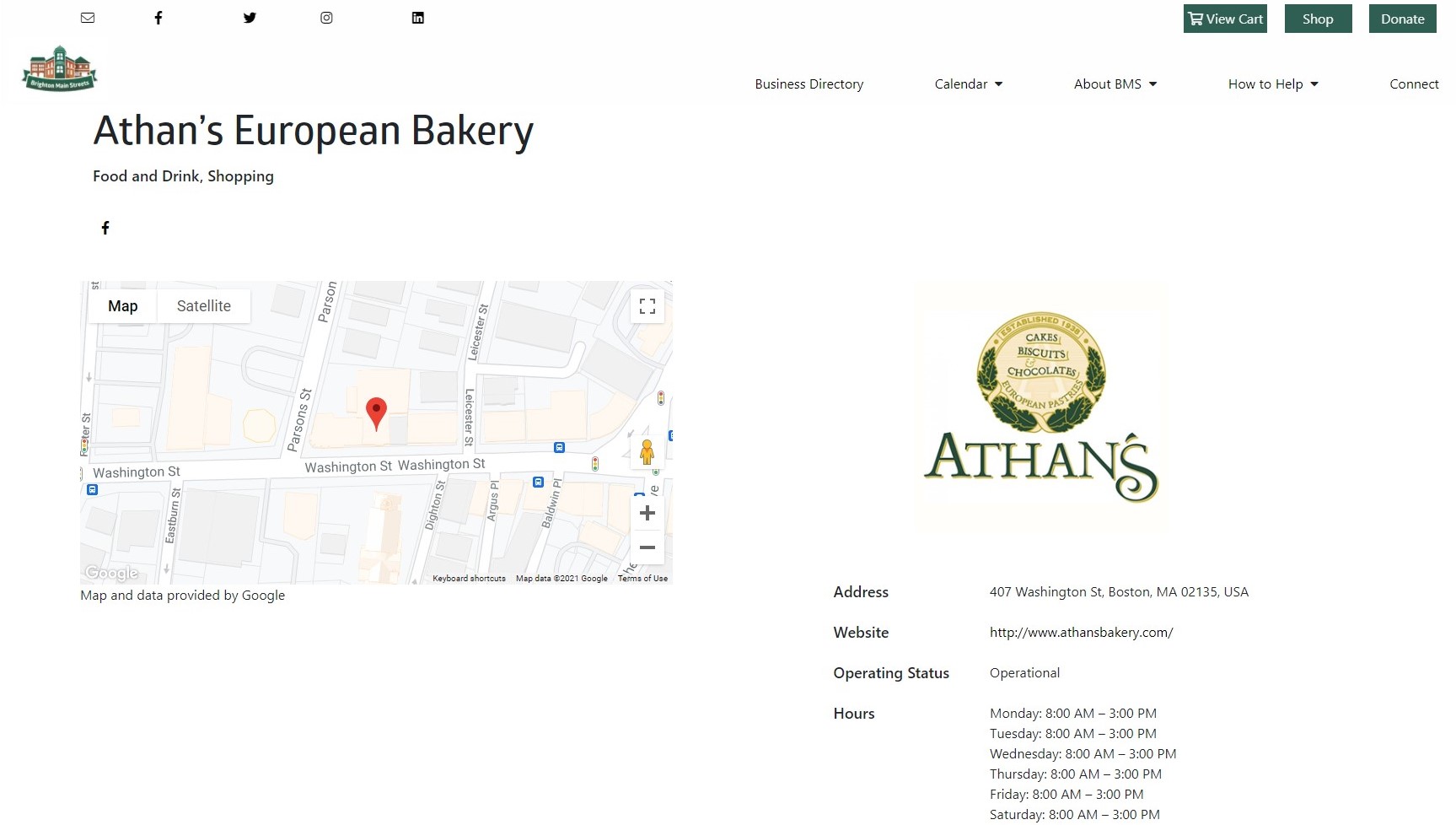 Upgraded Business Directory
The existing business directory was such an important part of the old website, its inclusion in the new design was not a question. But how to make it better? Well, why not do something to put Brighton on the map – literally.
We used the Harvest theme and its built-in custom post type framework to create a specialized section on the website administration panel for the businesses in the directory. Because we were building on WordPress, we got a lot of features "for-free" such as the ability to allow visitors to comment on the businesses as well (subject to a bit of screening to avoid potentially attacks on the businesses included in the directory). Each business now has it own page on the site where business owners can add additional information should they wish.
The big thing that came to light during the Covid pandemic, however, was just how rapidly business information changes. Is the business open? Are thours modified? That's where the Two Row Studio MapIt! plugin and the Google Places extension came in. Not only could we put each business onto a map for visual looks at where everything is, but we could pull the latest information about operating hours and status directly from one of the most reliable sources of information – Google itself.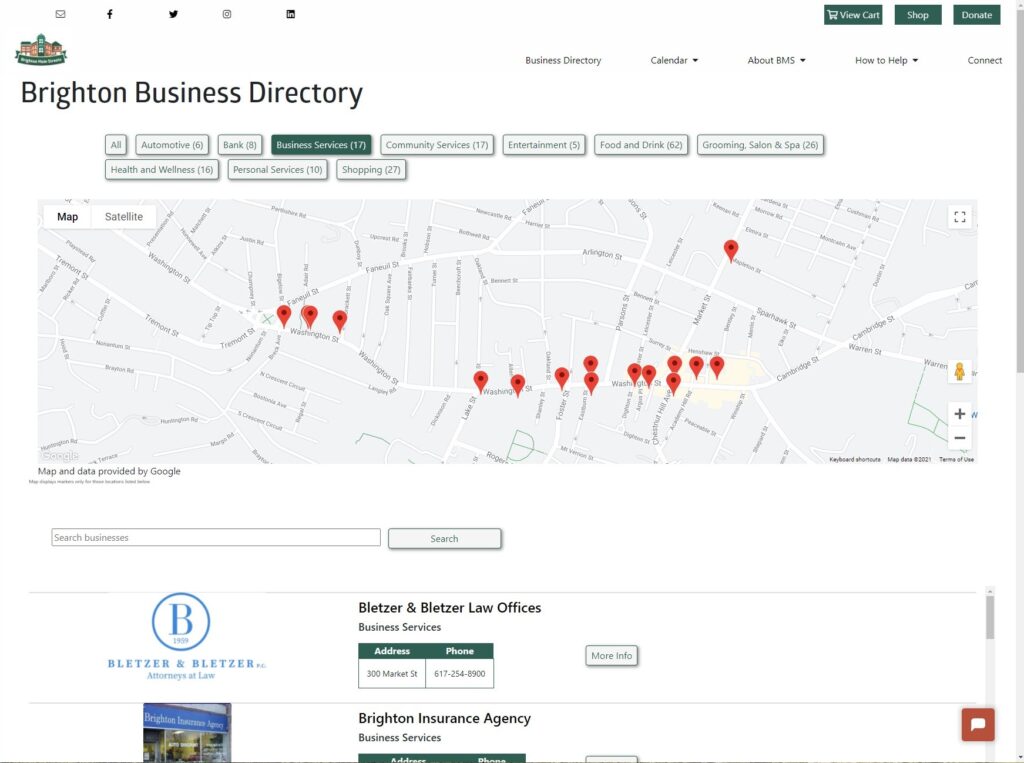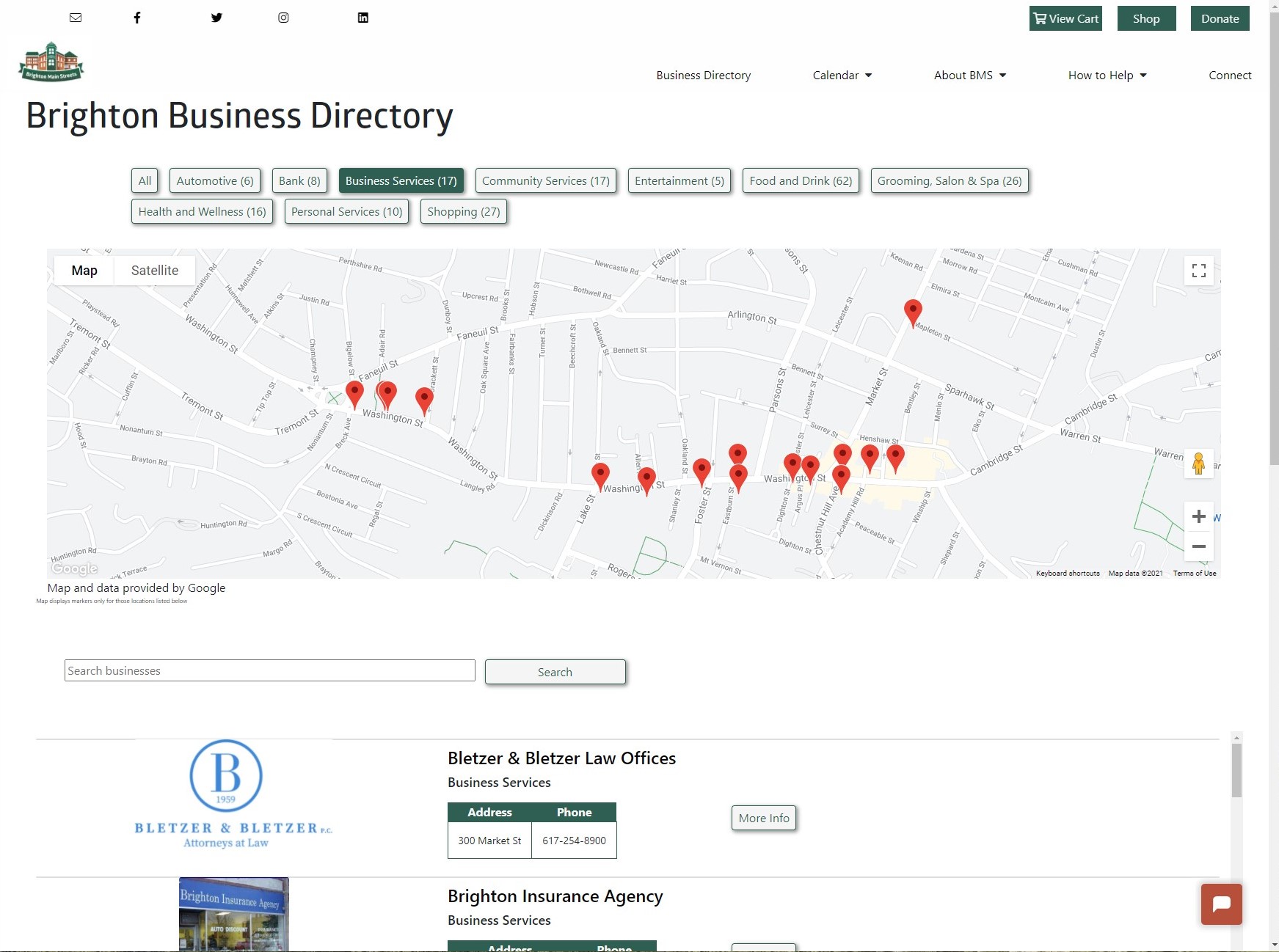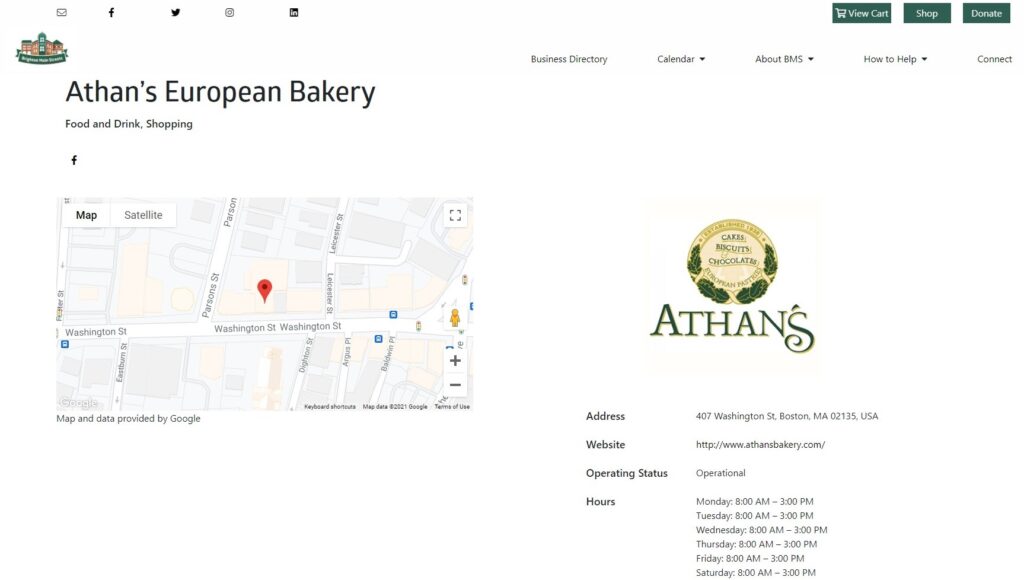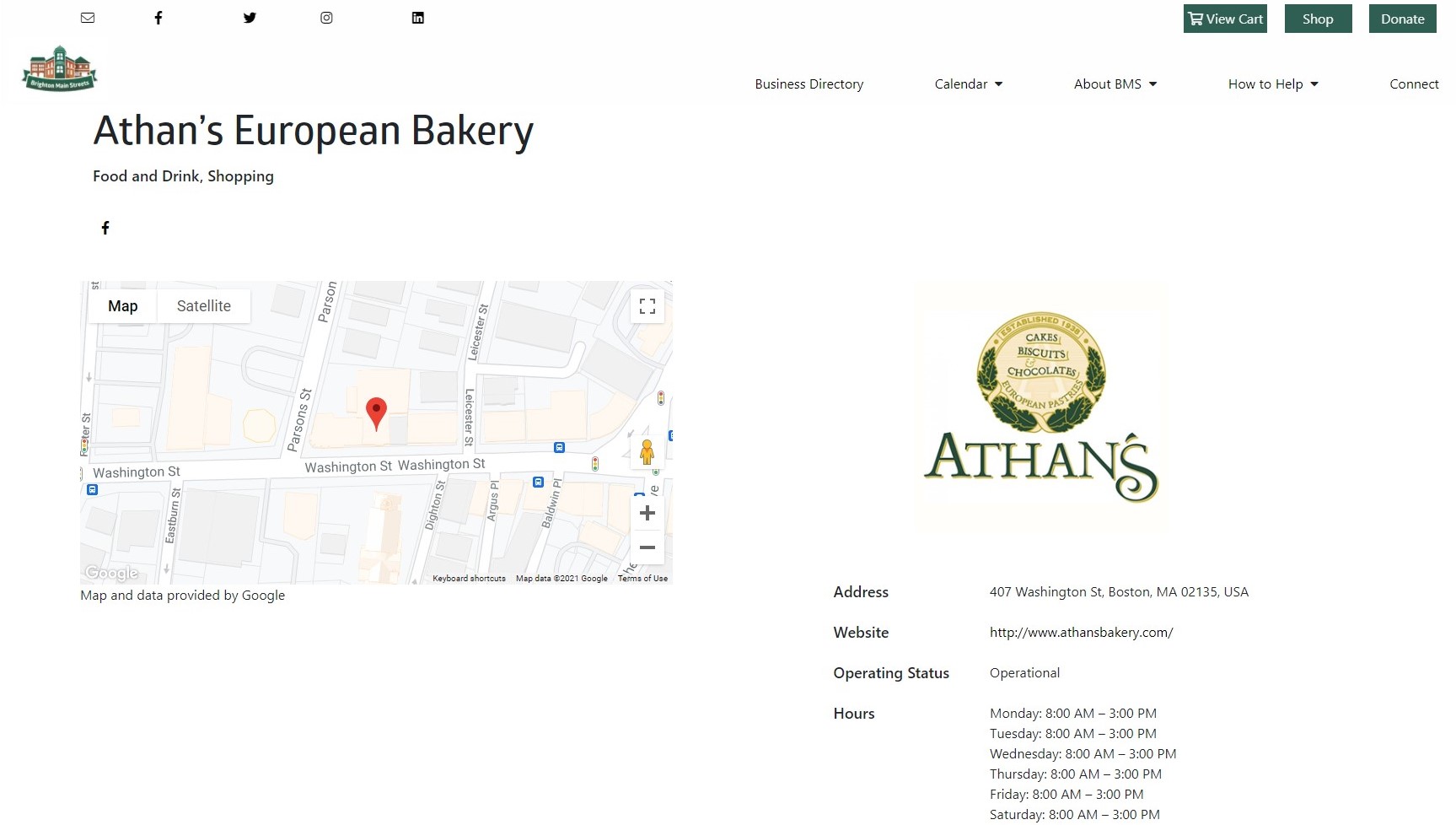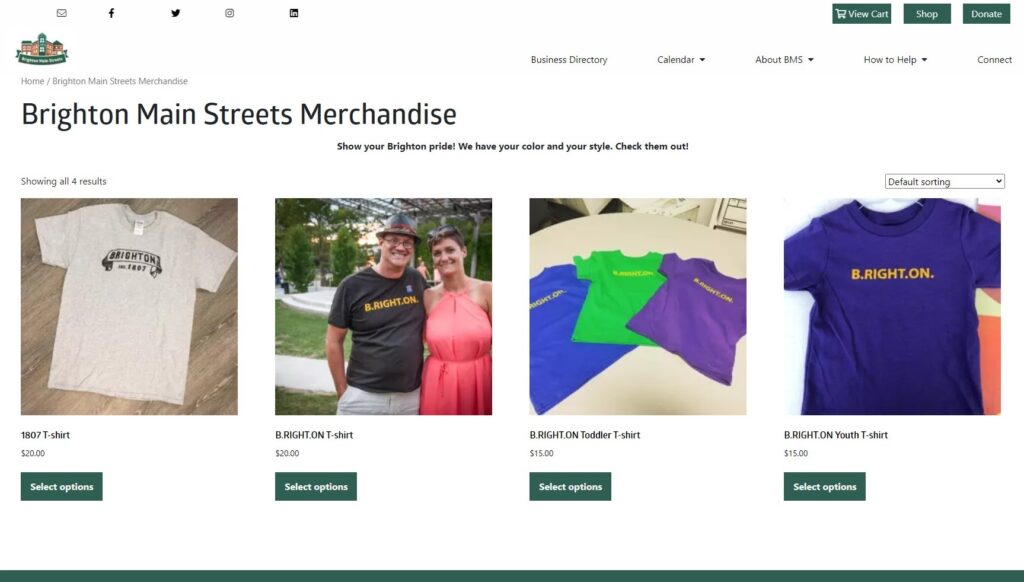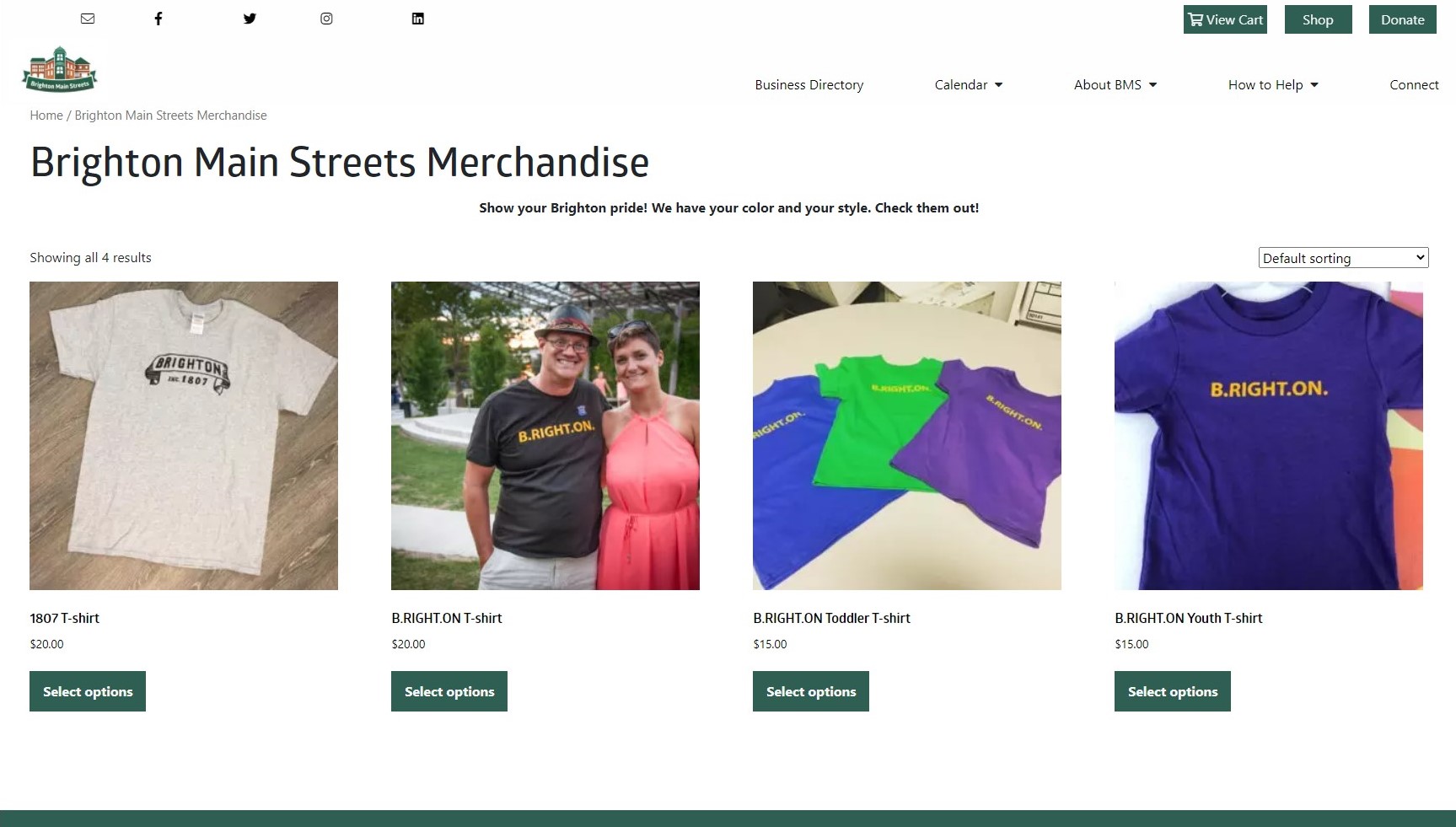 All the Money Stuff – In One Place
To this point, BMS was collecting some additional funds through donations and sales of Brighton themed apparel. Both of these online activities were run through 3rd part websites, however. We liken this practice as akin to going shopping at a retail store and having the cashier go into the back room to run your credit card -its not the best feeling for the donor / buyer.
We used WooCommerce to build an on-site ecommerce shop and the Give plugin to collect online donations. Both of these services cleared payments through the same processor so now they could operate with fewer accounts to monitor for payments and be able to simplify their efforts.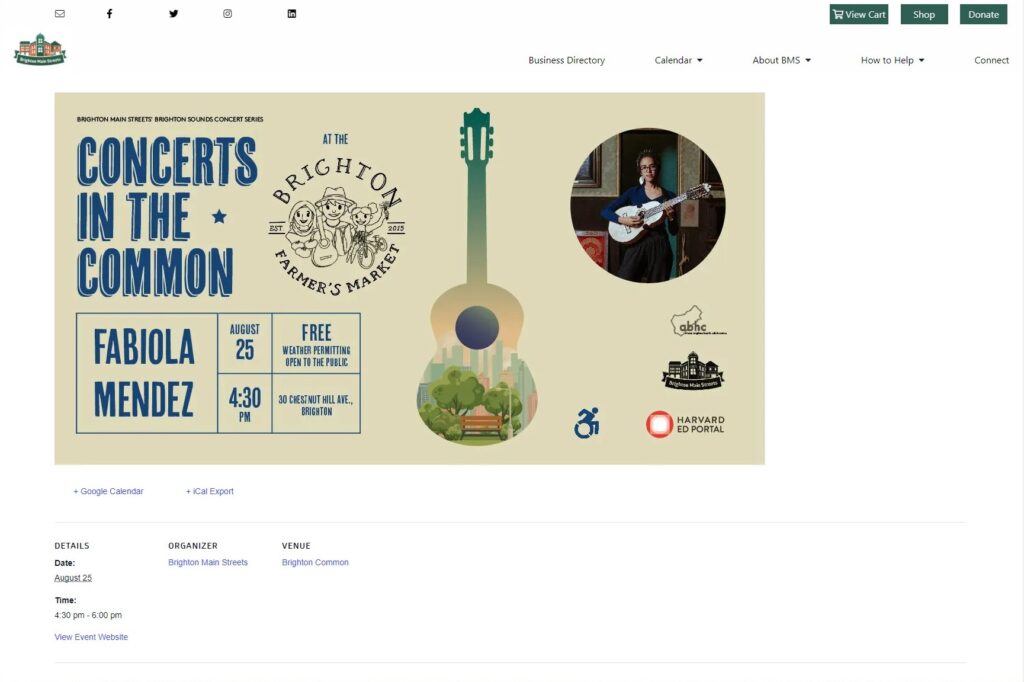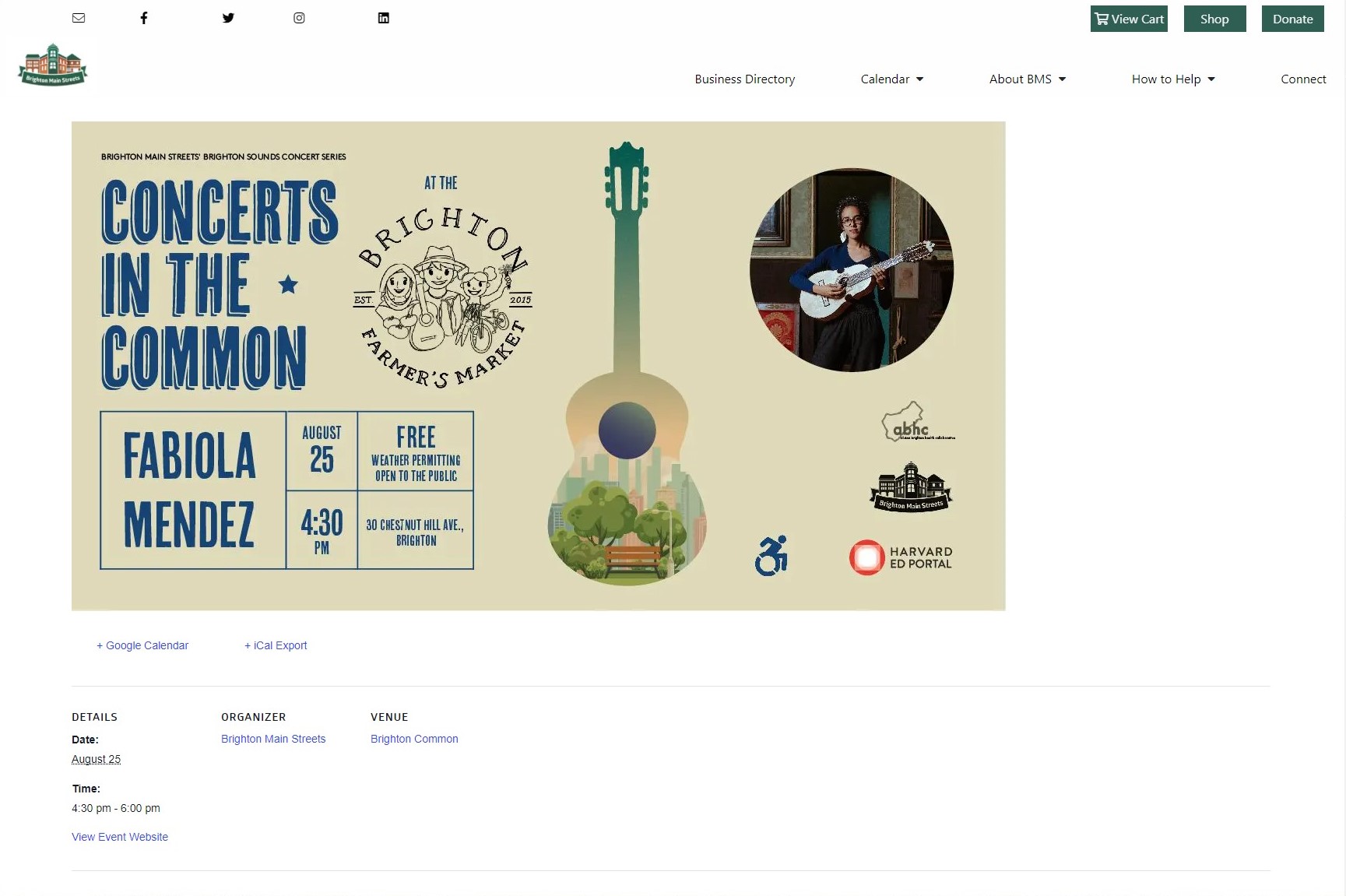 Events! Happenings!
A big part of the mission for BMS is community. Can't bring a community together without things to get together for and that's where the online calendar becomes essential. To allow Brighton Main Streets to promote and manage both its own events and those organized by others, we added the Events Calendar plugin to the site.
This plugin not only gives BMS a manageable interface to events, but also allows for future expansion. the add-ons available to the plugin will help BMS meet the needs of the future as things change and Brighton Main Streets becomes an even bigger source of community information.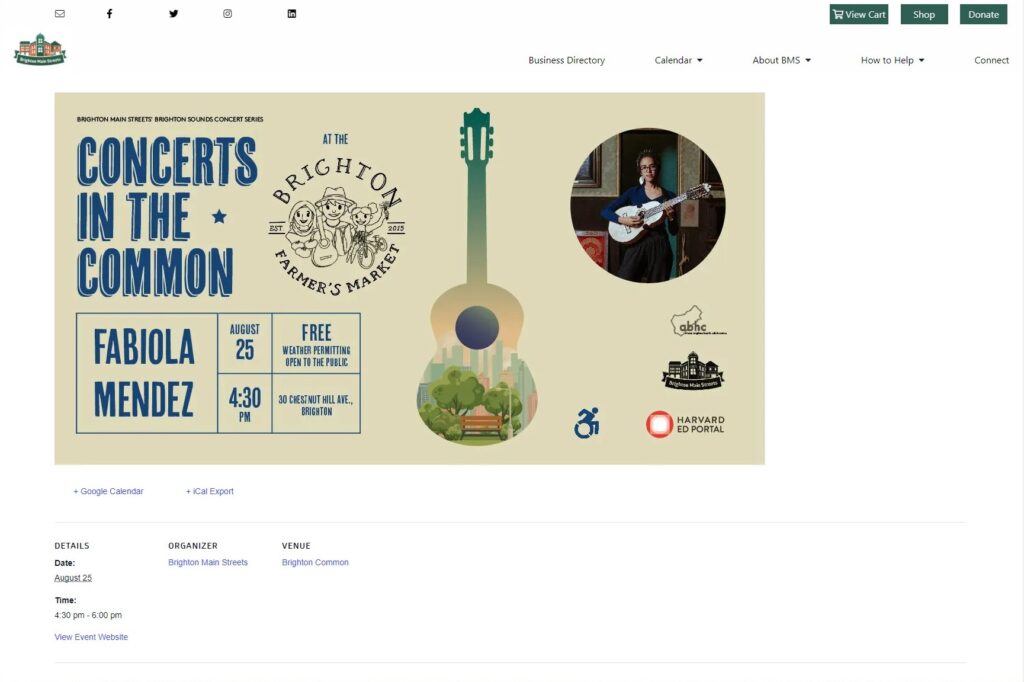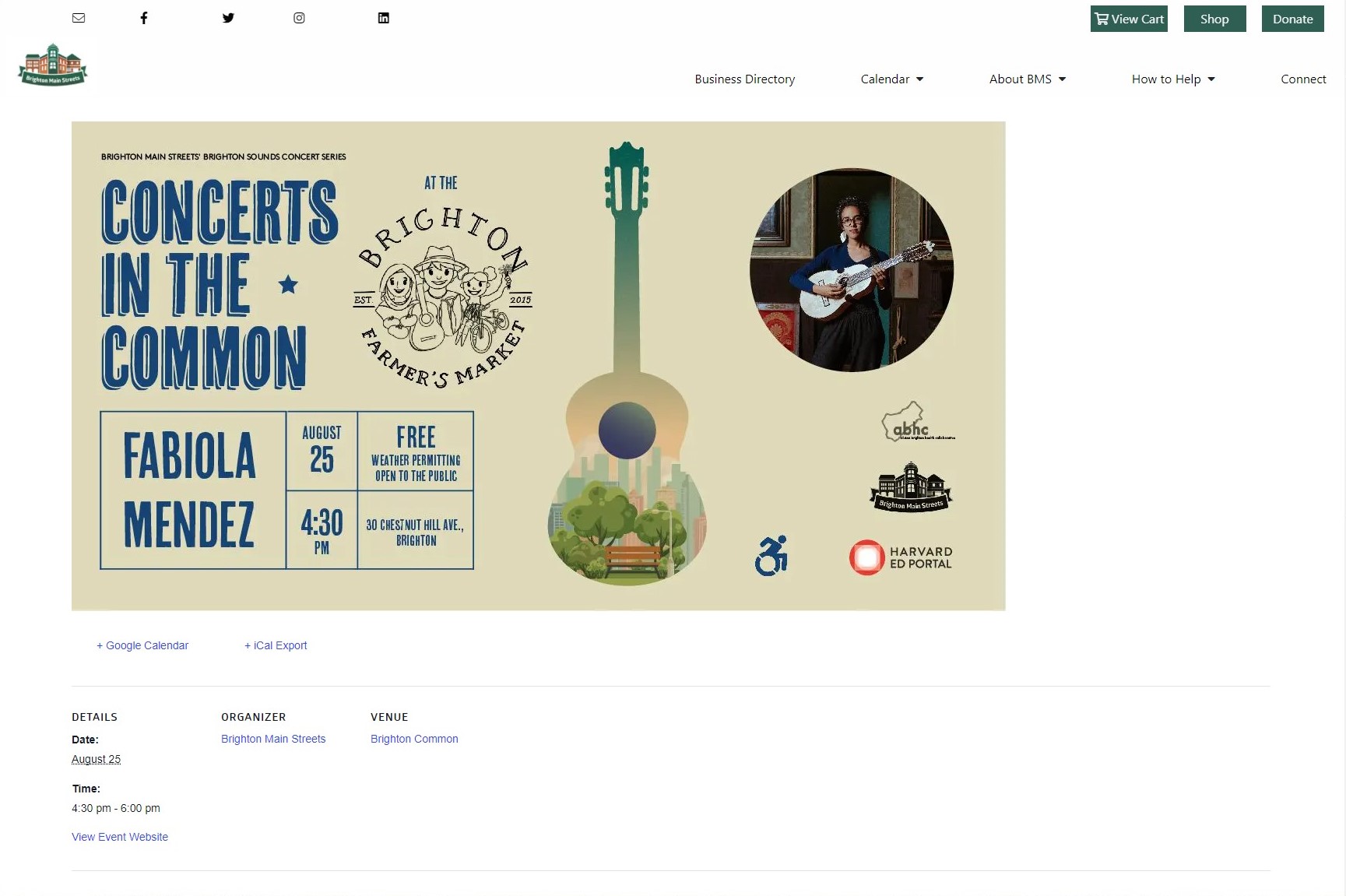 We came to Two Row Studio because the hosting for our existing website was about to end and the platform it was on was proprietary to our host. In other words, we had to start from scratch. Two Row led us through a review of how our website was meant to help us accomplish our mission. Not only did we get a new site up and running on a platform that is future proof, but we got one that helps us do our work more easily and with better results.
Aidan McDonough, Director - Brighton Main Streets
Visit Brighton Main Streets